Whole Plant Extracts have the same Affinity for Animals as they do People.  Holistic healing is as deep and vast as the plant kingdom is from the North to the South and East to the West.
 Shatka was down on the ground and in agony when I went to barn to feed the horses. I was alone and have only been around horses for a year,  but I did what I thought  any Hippophile would ( a lover of horses).  I may not be a vet but I do know the greatest physician of all.
 Shatka was full of gas her abdomen was so tight when I gently pressed on her stomach she wined. I called upon God to heal her. "I know you can heal Shatka God and I am asking in your Son's precious name.  Father, in the Name of Jesus heal Shatka, blow all this gas out of her."  Instantly, Shatka blew so much gas it began to sound rhythmic. Her abdomen kept playing the same tune over and over again. I was dancing with Joy; she was getting some relief!  Okay, the party was over as soon as I saw the blood in her stool and tissue bulging from her booty.  She had built up so much pressure she blew her insides out!  It wasn't a pretty sight. 
 I cleaned her up, notated the blood and called Terrie.  She has known Shatka since she was 6 months old and she is now 30 and blind. I told Terrie  everything in detail, she prayed with me and called the vet. Terrie instructed me what to do next for Shaka's well-being. It was in the 20s going down to 5 degrees and she is down on the frozen ground with snow and ice everywhere. Her stall is clean and dry with fresh wood shavings now. When Terrie arrived, we made a pillow for her head out of hay. We tried to help her stand up, to no avail, she would give up and lay back down.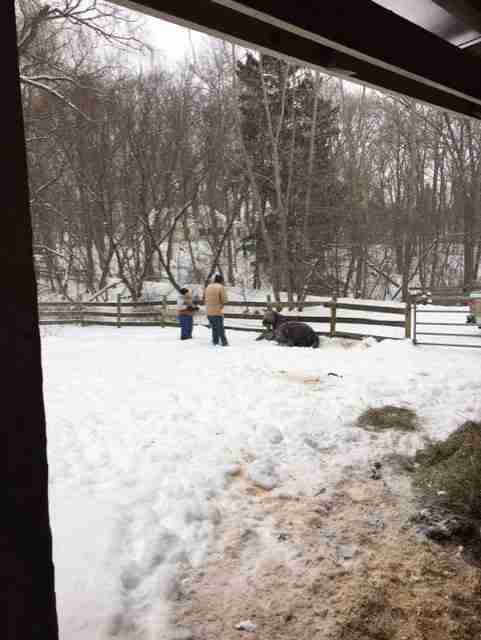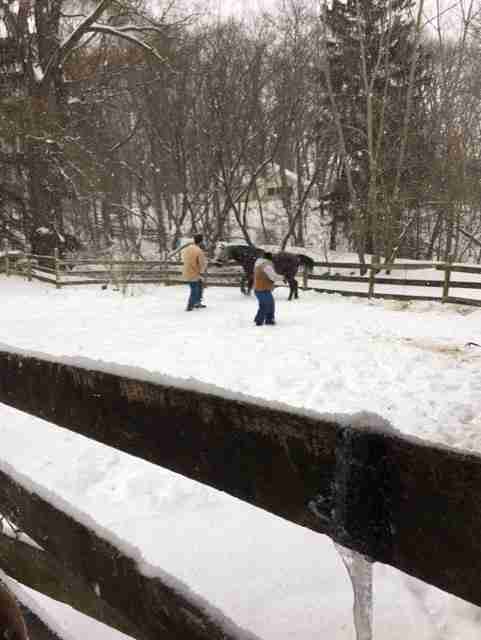 The vet arrived, named Dr. Mike, he gave her an anti-inflammatory and steroids. He began to tell us the worst-case scenario.  Terrie and I looked at each other and Terrie replied, "We have our fingers crossed." Surgery if we cannot get the tissue to stay inside.  "If she doesn't stand up and stay up...you know she is 30," Dr. Mike reminds Terrie.  Terries reply, "We are going for 2 more years at least, we have our fingers crossed."  She looked at me and smiled. She has to stand up. Dr. Mike wrapped a lead around her hoof and leg and a lead on the halter.  Jamie pulled her forward and Dr. Mike handled the leg lead.  I stayed with Harmony, to give her some attention while Jamie, Terrie, and Dr. Mike worked diligently to do all Dr. Mike instructed.  "Stay 20 ft. away from her because if she falls, she will roll and it happens quickly, get ready to run."  They tried at least 10 times, she kept falling and rolling. Terrie and I were Shatka's cheer leading team. She could hear us encouraging and praising her. Shatka hits the fence and hits it hard on the last fall.  She is now leanin on the fence, a support structure.  I think the support from the fence helped her regain her balance and up she went and never fell again.